Tea bonus falls to Ksh.27.6 billion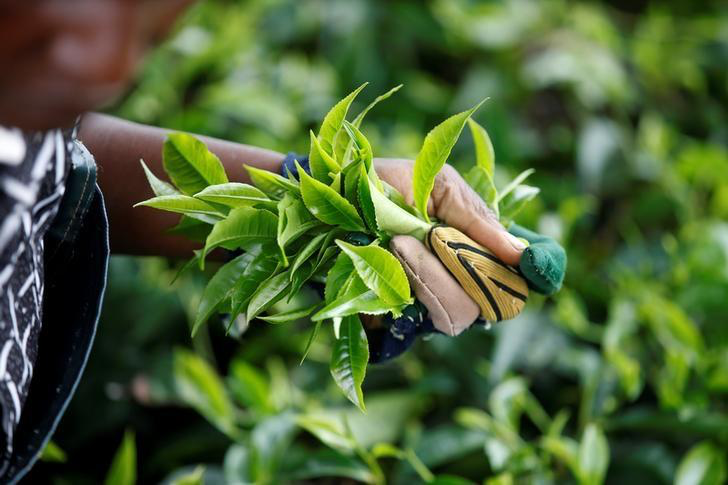 A woman picks tea leaves at a plantation in Kiambu County, near Nairobi, Kenya


Kenya Tea Development Authority (KTDA) managed tea factories have declared a Ksh.27.6 billion second and final payment to tea farmers for the year ending June 30, popularly referred to as the bonus.
The bonus payment is slightly lower than last year's final payment of Ksh.28.8 billion.
Nevertheless, the farmers' total payment for the year is up by 11.6 per cent at Ksh.51.9 billion from Ksh.46.5 billion in 2019.
The slack in tea earnings is attributable to an oversupply of tea in the international market which pushed down the average price of a kilo of tea sold by 8.1 per cent to a 12-year low Ksh.258.94 ($2.38) from Ksh.281.79 ($2.59) in 2019.
Green leaf production by the 54 KTDA managed factories meanwhile grew by 29 per cent in the year to 1.45 billion kilograms compared to 1.13 billion kilograms in 2019 cushioning the farmers against a further depreciation in earnings.
The annual turnover for the factories stood at Ksh.79 billion from Ksh.69 billion in 2019.
In determining the bonus, individual factory companies consider the revenue generated from tea sales, dividends from KTDA holdings and interests earned from deposits less costs of operations which include government taxes.
The lower final pay out is expected to be meet by displeasure from farmers, some of whom have fingered KTDA for ripping them off their deserved earnings.
The declining trend of the farmer pay-outs has warranted reforms by the Agriculture Ministry which now seek to overhaul the management of KTDA.
KTDA has however moved to court to block part of the changes which include a ban on direct tea sales into the export market, accusing the Ministry of Agriculture of the conspiracy to clip the powers of the small-holder farmer owned agency.
Tea factories in Murang'a have paid out the highest cumulative compensation to farmers at Ksh.9.8 billion ahead of Meru and Kirinyaga at Ksh.5.8 billion and Ksh.5.4 billion respectively.
Source: Citizen Digital