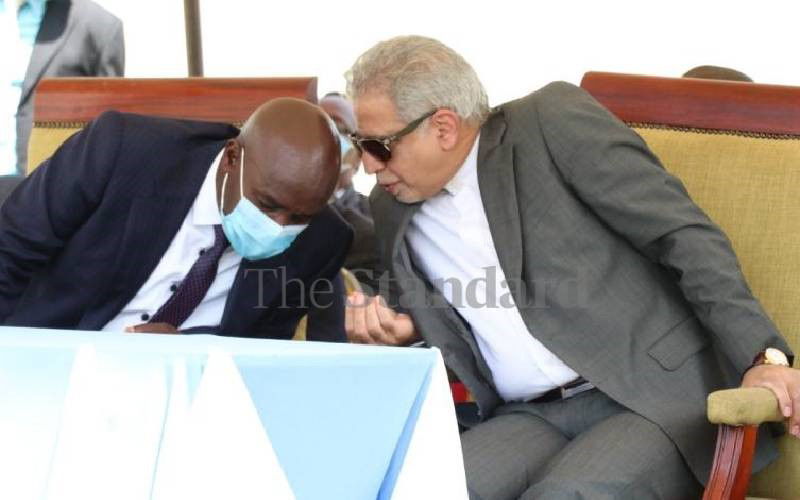 Bomet Governor Hillary Barchok and Iran Ambassador to Kenya Jafar Barmaki.
An initiative by Bomet Governor Hilary Barchok to export local tea to the Islamic State of Iran has generated heated debate among local leaders and players in the sector.
The industry players and farmers in the region have raised questions on the legality of the deal spearheaded by the county government and Iran Ambassador to Kenya Jafar Barmaki.
With the deal coming hot on the heels of the enforcement of the recently enacted Tea Act, some players argue it was plotted to jeopardise the full implementation of the new law.
Former Konoin MP Julius Kones, who played a leading role in pushing for reforms in the tea sector, described the deal as suspect.
Noting that the law required that all tea be sold through the Tea Board, Kones said it was not possible for the county to access the Iranian market without involving the agency.
Kones said the county seems to have overlooked the economic sanction placed on Iran.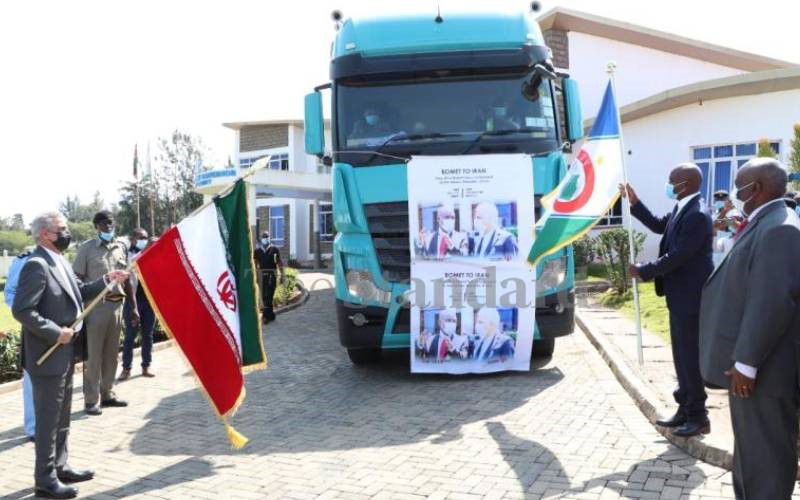 Bomet Governor Hillary Barchok and Iran Ambassador to Kenya Jafar Barmaki flagging off of the first tea consignment to Iran.
Since 1979, the United States has imposed an arms ban and an almost total economic embargo on Iran, which includes sanctions on companies doing business with Iran.
The sanctions include a ban on all Iranian-origin imports, sanctions on Iranian financial institutions and an almost total ban on selling aircraft or repair parts to Iranian aviation.
The former MP now wants the county to come clean on the source of tea it was planning to export to Iran.
"As it stands the county does not have a processing plant for tea save for a tea farm in Konoin. Which tea will the county export," he posed. However, Governor Barchok defended the deal, saying it is what the tea farmers deserve.
He said the county was facilitating local firms to secure an alternative market for their product, revealing that his administration has received clearance to access the Iranian market.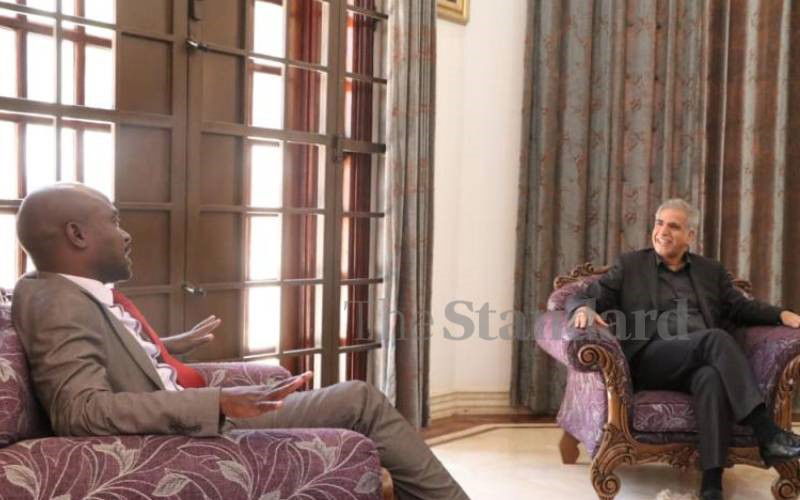 Bomet Governor Hillary Barchok Iran Ambassador to Kenya Jafar Barmaki.
But the county chief has been cagey on how the farmers will benefit from the deal, what amount of tea the county plans to help them export, how long the deal will last and the amount of money that is involved. "I will give more details at the right time but for now, we need to understand the challenges of making true the plans," he said, adding that his administration will not be distracted by "the noise". He said the direct sales will boost the earnings for more than 100,000 tea farmers in Bomet Country.
Source: Nation Media