Tea farmers from the Mt Kenya region have said they will boycott tea picking from October 5 to protest against KTDA's exploitation.
Last week, the farmers said failure by the agency to do away with the court cases that it filed to block the implementation of the tea regulations would spark protests from all tea growing areas.
Led by Moffat Kamau, a farmer from Makomboki tea factory, the farmers said KTDA has failed to heed to their notices.
The farmers have said they will boycott picking their tea until the agency takes their demands seriously.
"From October 5, we are asking all farmers to stop picking their tea as it seems that is the only language KTDA can understand," Kamau said.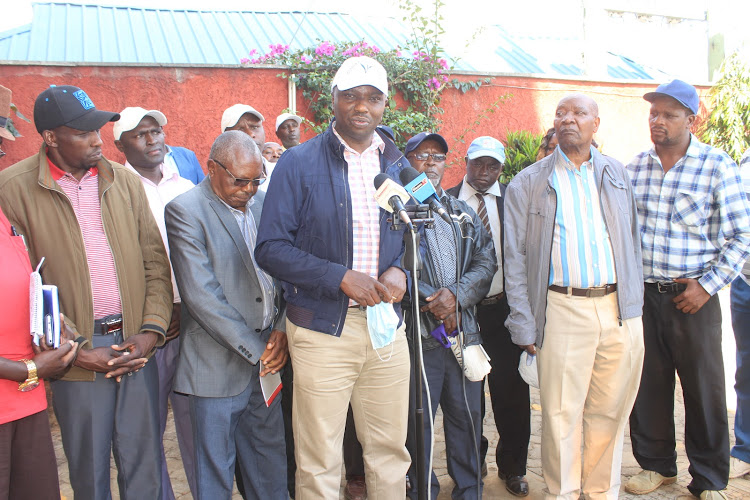 Patrick Ngunjiri, a tea farmer from Gitugi factory addressing journalists.
The regulations, Kamau said, will make it possible for farmers to receive half their monthly payments, saving them from the cycle of poverty and debts.
Currently, farmers only receive Sh16 per kilogram with Sh12 going to pickers while the farmer is left with Sh4 per kilogram.
This causes farmers to resort to taking loans to support themselves as they await the annual bonus that is paid in October each year.
The farmers also rejected the recently announced tea bonuses that they said is too meagre.
"KTDA has announced payments as low as Sh9 per kilogram in some factories while the highest-paid factories received about Sh30 yet we know it is capable of paying up to Sh50," the farmer added.
The farmers also want KTDA's agency's chairperson Peter Kanyago to resign following reports that he owns a tea brokerage firm which they said amounts to a conflict of interest.
Kanyago, they said, should leave the agency and focus on his firm.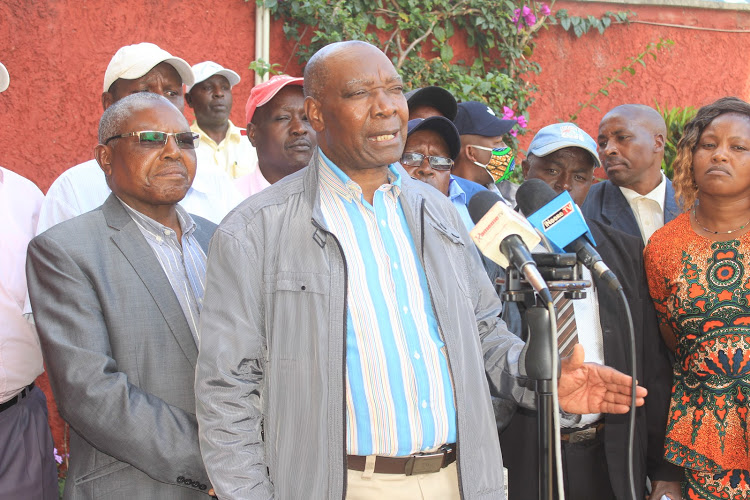 Moffat Kamau a tea farmer from Makomboki factory in Kigumo, Murang'a, addressing journalists at Kenol town on Thursday.
"Once the strike begins, it will not stop until these three demands are met. Let the tea go bad on the farms and our factories come to a standstill. KTDA belongs to farmers," he said.
He, however, appealed to the President to intervene and help them save themselves from the agency's snare saying the government will lose revenue when the farmers go on strike.
John Njiru from Rukuriri factory in Embu county wondered why the agency files cases purportedly on behalf of farmers without consulting them.
He said farmers have never asked the agency to file the cases through their directors and demanded a return of the money used in legal fees.
"We will march to their offices and eject top managers from their offices because their presence there is bad for us," he said.
Njiru said Kanyago's explanation that he trades in tea from foreign countries is an attempt to take farmers for a ride and that it is time for him to vacate his office.
Patrick Ngunjiri from Gitugi tea factory on his part said farmers are tired of living in slavery and have resolved to stop harvesting until their plight is addressed.
Ngunjiri said the reforms set in motion by the tea regulations aims at dismantling the exploitative system used by KTDA to exploit farmers for decades.
KTDA has acquired ex-parte orders to stop the implementation of the regulations, he said, saying the judiciary is being used to keep over 680,000 small scale farmers from economic freedom.
Muthoni Waithanji who is also affiliated to Gitugi factory said all tea earnings go towards repaying loans.
"We are going on strike because of the suffering we have endured," Waithanji said, calling on farmers to observe calm during the strike.
She appealed to the President to issue an executive order to resolve the issues surrounding the sector and save farmers from the turmoil.
Source: The Star