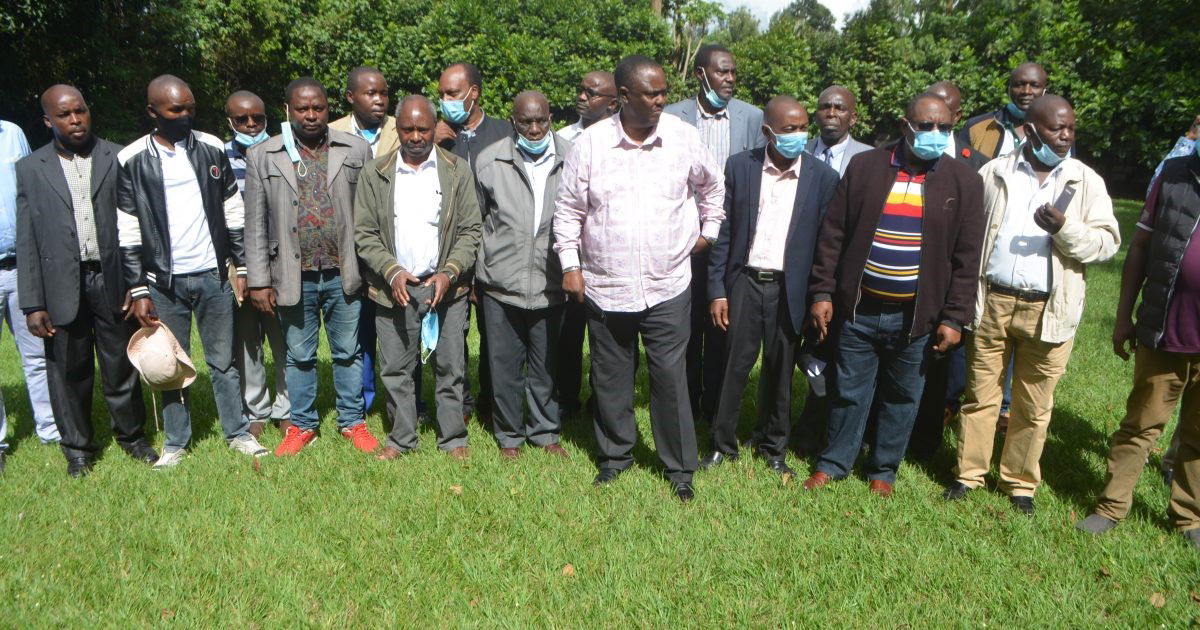 John Mithamo wa Susana has declared his intent to replace the long-serving KTDA Board Chairman, Peter Kanyago.
Wa Susana said with Kanyago having been rejected by tea farmer's right at his rural Othaya electoral area, the ground was free for him to take over the leadership. He was speaking to the media moments after he was elected unopposed by the 30 local directors from the zone as the new Director to the KTDA Board in Kerugoya.
John Mithamo Wa Susana (Left) who has been elected a zone five Board Director and has declared his intent to replace the long-serving KTDA Board Chairman, Peter Kanyago.
The Official who is also the Ndima Tea Factory Chairman said following the ongoing reforms in the sector and having been declared the zone five Director to the KTDA, he had all it what it takes to replace Kanyago. "I started fighting for these reforms over six years ago when I was elected as the Ndima Tea Factory Director but differed sharply and was shown the door for telling the truth that KTDA was exploiting the farmers, "he said.
Wa Susana recalled how the battle went up to the High Court and due to the corrupt activities, which prevailed at the time; he lost the case but he did not give up from crusading for the farmers. The Official said the reforms in the sector were unstoppable and that those trying to erect barriers along the way were doomed to fail. He also vowed to ensure a top-bottom forensic audit was carried out as a priority once elected the Board Chair so as to unearth the rot that prevailed for many years at the Agency.
"The audit we as the new team are demanding should start with the KTDA headquarters then cascade down to all our factories, "he said. The elections, which were through acclamation was overseen by lawyer Wachira Kibanya and conducted at the Roswam hotel, in Kerugoya town. Richard Magu the Thumaita Tea Factory Chair was elected the zonal coordinator.
Source: Kenya News Agency